How Much Sugar Can You Eat Per Day Without Harm to Health?
Sugar's harm
Sugar changes the hormonal background, which leads to a false feeling of hunger and overeating; provokes the release of dopamine, causing addiction; and, worst of all, in the form of fructose acts on the liver in the same way as alcohol.
Excessive consumption of sweets is fraught with inflammatory processes, obesity and insulin resistance (a harbinger of diabetes and heart disease) and serves as a catalyst for all modern pathologies – from acne to cancer, senile dementia, infertility and other misfortunes.
Sugar promotes the growth of pathogenic fungi, disrupts the microbiota, and in combination with a sedentary lifestyle, changes metabolism and promotes premature aging.
I hardly eat sugar!
Even if you don't eat sweets, you consume more sugar than you think. Food manufacturers manage to add it to many (if not most) of their products. Of the nearly 80,000 food items on the market, 58% contain sugar – and not to sweeten the taste! Sugar is a cheap preservative that extends the shelf life of products.
Even those who eat a healthy diet underestimate the amount of "free sugars" they eat per day. These include not only added sugars (that is, specially added to food, such as refined sugar or corn syrup), but also natural ones found in fruit juice, honey, maple syrup and agave. (Free sugars do not include the natural sugars found in milk, fruits, and vegetables, although these carbohydrates also turn into glucose and are a source of energy.)
Even seemingly healthy foods such as a protein bar or date smoothie can significantly exceed your daily "limit" of sweets. Liquid sugars are the most harmful: fructose, contained in juices and drinks, goes directly to the liver, where it is metabolized, like alcohol, and turns into fat. This process is not only the main cause of obesity, but also destroys the liver.
Make it a rule to count the amount of sugar in everything that you eat during the day – from the innocuous at first glance, but secretly sweetened foods like organic walnut paste or ketchup to snacks and drinks – and you can be shocked. According to recent studies, Americans consume an average of 77 pounds of sugar per year and often are unaware of it, because this product has many trade names that ordinary consumers don't say anything about.
Fructose: harm, not good
Glucose and fructose are two "simple sugars" into which carbohydrates break down in the body, and together they form sucrose (table sugar). For many years, doctors, including myself, considered fructose – the natural sugar found in fruits and vegetables (which is refined in corn syrup and used in the production of food and drinks, and also found in agave syrup) – safe because it is less affects blood sugar than glucose.
Now we know that fructose is processed by the liver and is not used by the brain and muscles as an energy source. The high fructose content in the diet provokes the formation of fat and an increase in the level of triglycerides in the blood, and over time can lead to steatitis and hepatic insulin resistance. Therefore, fruit juices and any products sweetened with corn syrup negate all your efforts to maintain health.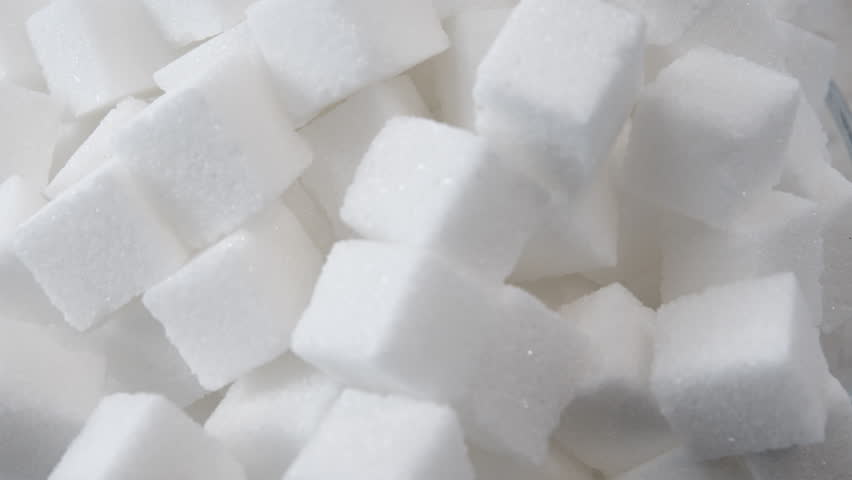 How many teaspoons of sugar are there in blood ?
Although the sugar content is usually indicated in grams, its effect on the body is easier to imagine if you translate this amount into spoons. Four grams of sugar is 1 teaspoon or one cube. On average, we consume 22 teaspoons of added sugars per day in the form of finished foods, drinks and sweeteners, and some people more.
A liter of fasting blood contains about 2 teaspoons of glucose (blood sugar); everything that exceeds this level should be burned or stored in reserve (first in the form of glycogen in the liver and muscles, and when these "reservoirs" are full – in the form of fat on the body).
The extraction of glucose from the blood into cells and tissues occurs due to insulin, a hormone secreted by the pancreas. When this mechanism is constantly activated, the cells may stop responding to it, and then the level of insulin in the blood rises. This condition is called insulin resistance (insulin insensitivity) and it is this that is the main reason for the development of hypertension, heart disease, diabetes and obesity (and possibly Alzheimer's disease) – and not cholesterol, as previously thought.
How to give up sugar: 7 steps
Go on a diet that excludes flour, pastries and artificial sweeteners – this helps significantly reduce the cravings for sweets. When you eat fiber-rich natural foods, microbiota bacteria send a signal to the brain that they receive all the necessary substances, pacifying its gastronomic urge.
To stay fit and normal, avoid finished foods and drinks with sugars above 4 grams per serving – and recipes too.
Carefully read the labels: if sugar or its veiled derivatives are among the first three ingredients, put this item back on the shelf.
And do not get involved in alternative sugars. Coconut sugar, a new favorite in healthy eating, is sugar anyway, albeit with a slightly higher mineral content. Honey, which in small amounts has healing properties, is also sugar, so eat it with a teaspoon, not jars.
If you want sweets, try stevia, arhat or xylitol, which are safer substitutes for sugar, but also know the measure. The idea is to train taste buds on less sugary foods.
Also avoid artificial sweeteners that disrupt microflora, have neurotoxic properties and again drive you into a vicious cycle of addiction to sweets.