How to Choose a Watermelon and What Desserts to Cook
How to choose a watermelon?
● To avoid nitrate poisoning, you should not buy watermelons in early summer: the beginning of their natural ripening is mid-August-early September.
● A ripe and tasty watermelon should be large, but not heavy. When squeezed, a ripe watermelon pops, and when tapped, it makes a dull sound.
● Before buying, make sure that the skin of the fetus is not damaged – incisions and cracks.
● The natural, not processed by "chemistry" watermelon has a surface, brilliant with a contrasting pattern. A yellow or orange spot on the side is a sign that the fruit has matured in the garden. The dry tail at the top of the watermelon indicates its natural ripeness.
● Determine whether the watermelon was treated with nitrates by cutting it at home. If the pulp glistens with sugar grains, watermelon can be safely eaten and given to the child. Smooth and glossy pulp suggests that the watermelon was most likely helped to ripen artificially. Another way to determine the naturalness of a watermelon is to crumble a piece into a glass of water. The pulp of a natural fruit will make the water cloudy, "chemical" – it will color the water red or pink.
● You should only buy watermelon in designated retail locations. The seller must have on hand and provide, upon request, documents confirming the quality of the products. You can not buy watermelons in natural markets along the roads, as they are able to absorb heavy metals from exhaust gases.
Healthy watermelon desserts
Watermelon is certainly good on its own. But on its basis, you can cook delicious and healthy desserts for children. Moreover, it will not take much time.
Watermelon water instead of soda
Does the child prefer to quench his thirst with soda that is not very healthy? Offer him tasty, refreshing and completely natural watermelon water!
To prepare it you will need:
● half a large watermelon (without peel and seeds);
● 4 glasses of water;
● fresh mint leaves (to taste);
● half lime juice;
● 3 tablespoons of sugar or honey.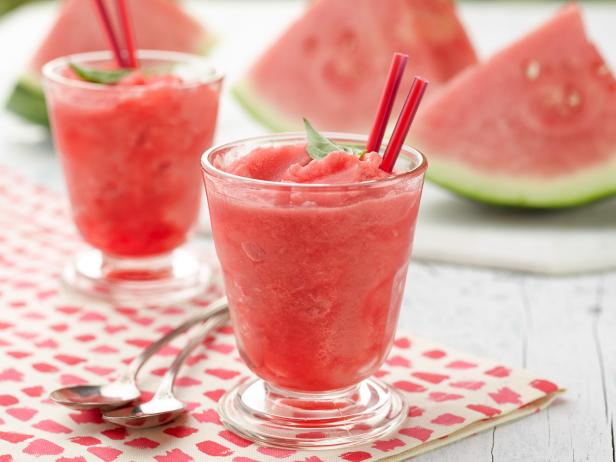 We turn watermelon pulp, water, mint leaves and sugar (or honey) into mashed potatoes using a blender. Filter the resulting mass through a sieve into a bowl or jug. Add lime juice. Serve chilled.
Watermelon Popsicle
Try to make tasty and healthy ice cream based on ripe watermelon – it is unlikely that a small gourmet will refuse such a treat.
For watermelon popsicle you will need:
● about 700 grams of watermelon pulp (without peel and pits);
● 2 tablespoons of sugar;
● 4 tablespoons of chopped fresh mint leaves (optional);
● 2 teaspoons of grated lemon peel;
● a pinch of salt.
Grind watermelon pulp with sugar in a blender, add mint, lemon zest and salt. The resulting mixture is poured into molds and put in the refrigerator. After an hour and a half, sticks can be inserted into the forms. We leave the watermelon popsicle in the freezer for at least 3 hours, so that it freezes well.
Watermelon jelly
Tasty and bright watermelon jelly is a great dessert option for a fun children's holiday.
For jelly, you will need:
● watermelon (about 3 kg with a peel);
● gelatin (sachet, about 20 grams);
● 1/2 cup sugar;
● 1/4 cup lemon juice;
● vegetable oil.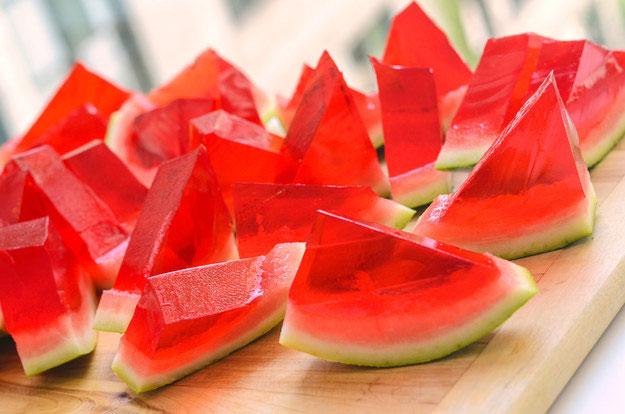 1. Cut the watermelon into large pieces, peel. Put the pulp in a blender and turn into mashed potatoes. We filter the resulting mixture through a sieve. The result should be about 3 glasses of juice.
2. In a small bowl, mix gelatin with 1 cup watermelon juice. Let it brew for 3 minutes.
3. In a small saucepan over medium heat, heat the rest of the watermelon juice by adding sugar to it. Keep on fire until sugar is completely dissolved. Then add pre-prepared gelatin and lemon juice to this mixture. Remove from heat.
4. Pour the prepared mixture into molds previously coated with oil. Cover and refrigerate overnight.
5. Before serving, we cut the jelly into cubes and distribute into bowls.